New website under construction. More coming soon.

8-Week Online Course – Next Session Starts March 8, 2021
Take advantage of early-bird pricing now!
 
A personal and leadership development course for the 21st century.
Has Covid 19 Turned Your World Around?
Do you want to build a positive culture that goes beyond free lunches and the company values printed on the wall?
2020 can be a totally different year for you with the knowledge and practical skills taught in this course. Learn to handle the challenges in today's fast-paced world of business with greater confidence and skill.
Understand how your emotions drive behavior
Make conscious choices rather than automatic reactive ones
Manage stress – prevent it or keep it from building beyond what is healthy
Navigate pressures due to deadlines, working with remote teams, personality conflicts and more with greater ease
This eight-week instructor-led course includes:
On-demand Videos
Live Video Conference Calls with the Instructor
Peer Accountability Groups
Discussions and Writing Exercises
Articles and Resources
Peer Group Social Learning. And more!
Dissatisfied employees cost US businesses $1 trillion yearly due to attrition.
Happy employees are 12% more productive.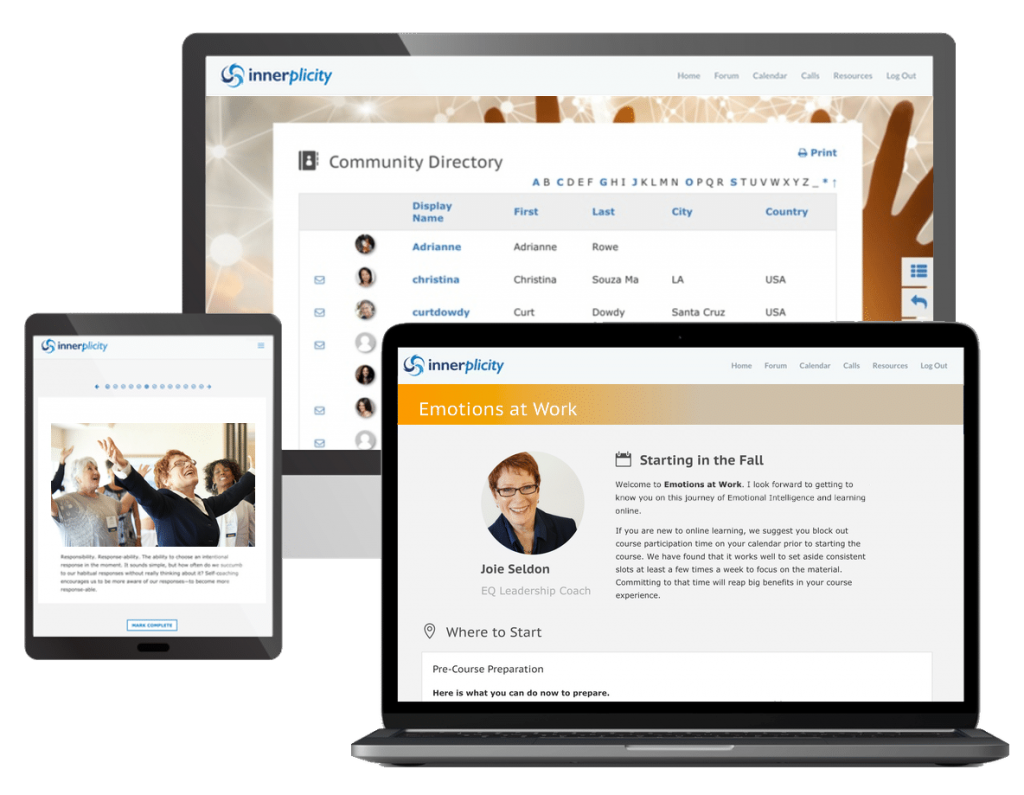 "I wanted to improve my job performance and to learn how to control my anger and anxiety at work. Now I'm calmer, and more poised. I was always good at leading my teams, but my ability to communicate with my peers and my boss has improved tremendously. I have been included more in decision-making and feel confident in the abilities I have." – Chris, VP Banking
"I struggled in dealing with a micro-managing boss and co-workers who were more focused on playing office politics than doing their job. Since learning the tools Joie teaches, the benefits are amazing. I have grown tremendously in my ability to manage my feelings. I am a much better communicator and leader of my team and other managers. A VP who had left the company just recruited me to improve the functioning of an entire division of her new company." – M.M., Senior Project Manager, Tech Industry
"As CEO of the company, one of my greatest frustrations, and what makes me feel stressed to the max, is dealing with employees and vendors who make excuses for not getting their job done properly. After implementing Joie's strategy on how to have productive meetings, things changed. One of my managers recently said, "What have you been doing? You're so much easier to talk to now." – Ben, Founder & CEO Real Estate Industry
"Work is still challenging, but I now have the tools and resources I need. I am MOST grateful for all I have learned from Joie! I have felt so much more empowered and resourced as a leader at work and in my life. It's amazing where little steps and a little practice can get you." – Alex, General Manager Retail